Essex is a fascinating destination with a plethora of attractions, including breathtaking beaches, scenic countryside, and vibrant cities filled with nightlife enthusiasts. Its inhabitants are equally intriguing, making it a must-visit location in the Southeast. Unfortunately, it is often overlooked by tourists from afar.
It's really unfortunate that many people miss out on some of the most breathtaking spots and attractions that England has to offer. From stunning Constable country and charming historical towns to stunning stately homes and long beaches that are swarming with golden sand, these are the nine most beautiful and unusual places to visit in Essex, UK.
1. Dedham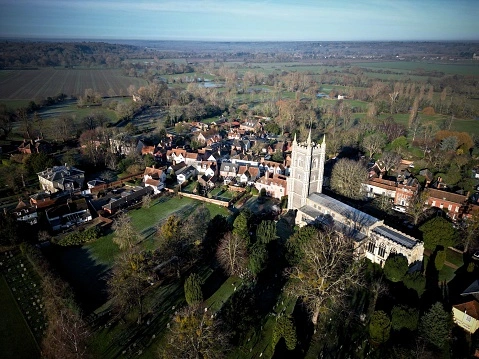 If you're planning a trip to Essex, Dedham is definitely worth a visit. This picturesque location is known as "Constable Country" to artists, and it's no wonder why. The region inspired some of John Constable's most famous oil landscape paintings, which are revered as groundbreaking works of art. Dedham truly is one of the most stunning destinations in Essex, and any art enthusiast will appreciate its rich history and natural beauty.
One can easily see why John Constable found the landscape he observed so inspiring. The area is undeniably gorgeous, offering stunning views of the countryside, impressive architecture, and flourishing trees and lawns.
The area boasts a charming array of structures, including beam-fronted houses and quaint tearooms. For those with a desire for adventure, taking a rowing boat out on the River Stour is a great way to experience the breathtaking Essex scenery.
2. Colchester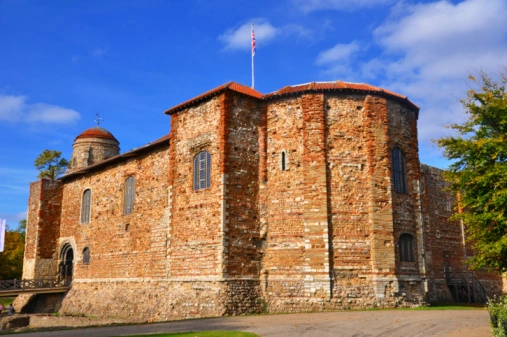 Colchester is a beautiful historical Essex town with a long and rich history dating back more than 2000 years.
If you're looking for a lot to do and see in the city, Colchester is sure to keep you entertained. It is located in the middle of Essex County. It has excellent transportation links and is simple to access.
The city is beautiful and has fascinating historic buildings. It was built on the basis of the Roman temple. Additionally, one of the city's museums exhibits objects that are 2,500 years old. This is indeed a very long time!
It's a nice spot to spend a day enjoying the numerous eateries, shops, and cafes. Be sure to include a visit to Colchester Castle.
The castle is well-maintained and has an exhibit, which makes it a great back-pocket option for rainy days. The castle is situated in the middle of a park, which means that during good weather, you can make the most of the park's facilities.
3. Finchingfield (Explore Essex's Prettiest Village)
If one were to open up a travel book and search for 'stereotypical Home Counties village', most likely, you'd see a photo of Finchingfield.
The village "feel" in this town is bordering on absurd.
With green in the village with tiny stone bridges, country pubs, and windmills, you could be able to believe you were in the 1930s. The village is situated just north of Braintree. The village isn't exactly a gastronomic hub; however, that's what makes it so charming.
4. Maldon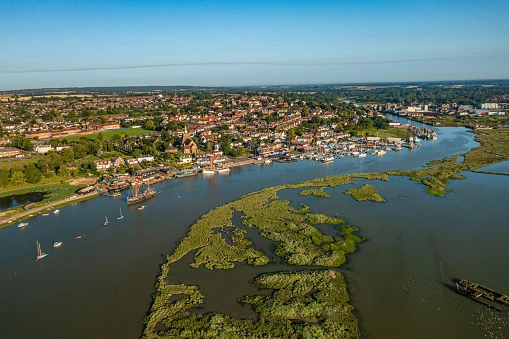 Maldon is an enchanting, ancient town that is home to old sailing barges, massive salt marshes, and traditional drinking establishments along the water.
Maldon is one of the most storied cities in Essex, and with a plethora of charisma, it is a jewel of a town. The mediaeval structures, timber-framed structures, salt marshes, and a port full of heritage are among the many things that make Maldon a standout.
It's among the few locations in the UK where you can take a Thames barge that, at one time, would have had a raging crowd on the docks of Hythe Quay for loading and unloading their goods.
They now offer afternoon tea and sightseeing tours. Promenade Park, known locally as "The Prom", has short, picturesque walks as well as the chance to relax, observe people, and take a bite.
If the weather doesn't look good, take a walk along Bright's Path, where you can grab a cup of tea or an ice cream cake.
5. Hadleigh Castle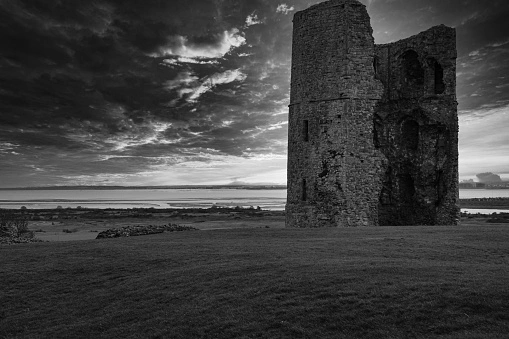 Hadleigh Castle is the romantic ruin of an old royal castle with a view of the gorgeous Essex marshes.
A pleasant historical coincidence: castles were built to offer the most stunning views of their surroundings. Hadleigh Castle is no exception. It is awe-inspiring, with stunning views of the Thames estuary all the way up to Kent.
Although the castle isn't top-of-the-line, If you can use your imagination, you may be able to envision the splendour of days long gone.
If you're looking for some atmospheric and eerie photography, you can't find a more perfect location (just make sure you check the weather prior to your visit to ensure it's not quite breezy). The castle is an uphill walk, and parking is not plentiful, so make sure you bring something comfortable for your feet to wear.
6. Epping Forest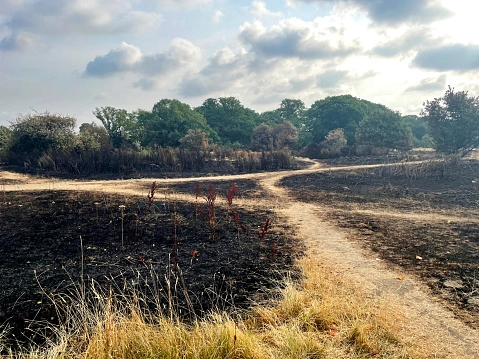 Epping Forest is a 2,400-hectare area of beautiful ancient woodlands and one of Essex's most beautiful places to visit.
If exploring lakes and navigating paths through forest trails that meander through lush green landscapes is what you like to do, then look for a way to go. Epping Forest straddles the border of Greater London and Essex. Its excellent transportation links make it accessible from all directions.
"The People's Forest" is awash with beauty and history. If you're walking (with or without dogs), a cyclist, a horse lover, or someone who needs a brief break, Epping Forest is a beauty spot and a treasure for a visit to Essex.
The entrance fee is not charged for admission to Queens Hunting Lodge, where the rumour is that Henry VIII used to take potshots at passing deer. Connaught Water is among the most well-known lakes within the forest. It's close to Chingford, offering an excellent parking area and facilities, a sloppily paced walk, and the chance to feed the waterfowl who live there throughout the year.
7. Mersea Island
A tiny but perfectly shaped estuary island that is loved by holiday families who fall for its vintage attraction
Essex is not usually associated with relaxing, idyllic island life; however, Mersea provides exactly that.
A small island situated to the west of Clacton-on-Sea, Mersea houses colourful beach huts and wide open spaces, making it a secret estuarial jewel.
The western part of the island is perfect for a picture-perfect day at the beach and is dotted with multi-coloured buildings, beaches with sand, and seafood restaurants. Perhaps a jolly glass of wine or a pint in one of its numerous bars.
The eastern side has a distinct flavour. Cudmore Grove National Park is an oasis of nature that offers people who love to birdwatch and picnickers alike the chance to indulge in what they enjoy.
8. Brightlingsea Beach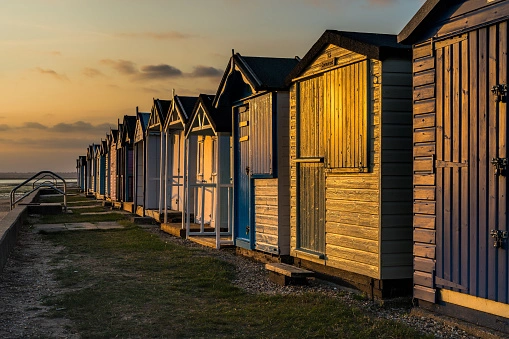 A beach with sand in Essex is a popular destination and has the Blue Flag Award.
Brightlingsea Beach isn't the largest on our list, but it is distinct in its own way. It's easily accessible and is situated on the opposite shore of the estuary from Mersea Island. It might not be as popular as Mersea; however, it does have some of the same characteristics.
The promenade is a great place to relax. You can indulge in various activities, whether it's paddling on the water or trying to catch a raging crab. For sailors, there is a marina that hosts regular regattas and other events.
9. Audley End House
One of England's most beautiful country homes is situated outside the charming city of Saffron Walden.
Audley End House is a mansion built in the 17th century that has been through several renovations and, at one point, was the home of King Charles II. The scale and splendour of the property, located close to the west of the beautiful Saffron Waldon, are breathtaking.
The gardens, particularly the gardens, make a wonderful spot to have a picnic or an amazing photo opportunity. From a historical point of view, the home has a fascinating history.
During World War II, it was used to train secret Polish personnel before being taken into enemy territory. If this is a region you are particularly interested in, English Heritage offers guided tours that cover the details of the house's 400 years of history.
When the crowds get to you, the market town of Saffron Walden offers pastel-coloured tea shops as well as black-and-white timbered bars where you can get food and enjoy a relaxing time.
Also Read: Most Instagrammable Places In Ireland